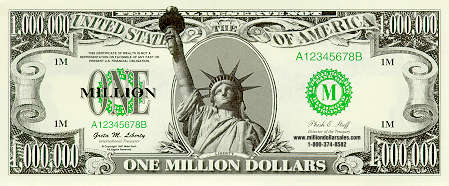 Dear Friend,
As you can see, I have attached a "Million Dollar Bill" to the top of this letter. Why have I done this? Actually there are two reasons:
I have something very important to tell you, and I wanted to be sure I got your attention.
I'd like to share a very important story – that is directly related to $1,000,000.00 and I thought it would be a great way to "break the ice."
The story?
Well – here it is.
For many years now Mile High Karate has held a semi-annual retreat with all of our Black Belts and Black Belt candidates. The big event of the year has been held for many years Silver Creek resort and recently moved to Breckenridge and has been attended by as many as 400 participants.
An annual ritual has become – sitting down the new Black Belts and asking a simple question:
Now, you've got to suspend disbelief for a second on this one..
What if I possessed a "time-machine" and could transport back to the moment that you decided to commit to Black Belt (and beyond) at Mile High Karate. What if I could travel back – and, while traveling back take back all of the skills, knowledge, attitude, friends, and accomplishments that you've achieved on the way to Black Belt ?
If I had that ability – how much would I have to pay you to allow me to take away all you've accomplished due to your association with Mile High Karate?
Well – often there is a stunned silence among the participants – and, their parents.
The I ask – what if I reimbursed 100% of everything you ever paid in tuition, events, equipment – If I reimbursed everything that you've paid – and, even paid $25 or even $50 per hour for the time you've spent? Would you take me up on the offer?
In every instance – literally 100's of times the answer is a RESOUNDING – NO WAY!
Well, I then ask. .. What if I upped the ante? How about $50,000.00? No wait. Better yet , how about $100,000.00? For $100,000.00 would you let me take back everything you've learned and accomplished through Mile High Karate?
Again – a RESOUNDING – NO WAY!
Ok, Ok – I reply. Maybe that's not enough to really change your life. Let's think about a REALLY BIG number!
How about $1,000,000.00 (One Million Dollars!)
Now come on – that's A LOT of money – what about $1,000,000.00 ?
If I could give you $1,000,000.00 cash – would you let me take back everything you've learned at Mile High Karate ? – and, take a different path 3, 4, or 5 years ago?
What do you think 487 Black Belts and their parents – have unanimously said to that outrageous proposition?
$1,000,000.00 just to have decided NOT to have trained to Black Belt at Mile High Karate?
Can you guess?
Well you are right.
EVERY one of them in the last 19 years have said not only NO – but, hell no! Each and every Black Belt ever developed at Mile High Karate has said the experience was not only worth $1,000,000.00 but literally was PRICELESS!

Now, you may be thinking one of two self-defeating ideas.
First, well that's them. How do I know that I will be able to achieve Black Belt under the incredibly high standards of Mile High Karate?
Well. Frankly each of our teachers and school operators are trained for 100's of hours – one the teaching and developmental skills necessary to achieve Black Belt. And, they have all been taught how to check for aptitude and attitude for a strong Black Belt candidate. And, to qualify prospective candidates to be allowed to train to Black Belt and beyond.

Guess what?
You have passed a VERY VIGOROUS screening process to be considered to train to Black Belt and beyond – and, to earn the Internationally Recognized symbol of achievement in Martial Arts – Mile High Karate's Black Belt.
Second, Ok, Ok – they all achieved those incredible results – but, for me it just seems like to much time, effort, and money. Why would I want to do this?
Well – you are right about one thing.
Without commitment there is no achievement.
Is it worth the time, effort, and money? Well – ask ANY Mile High Karate Black Belt and you will find that they believe their achievement to be worth 100 times or even 1,000 times what it cost them in time, effort, and in money. Without exception – they believe that no other use of their time an resources would have had the same – life-long, permanent, improvement in their life that Mile High Karate has had.
Any way – why have I written you this week – and, explained our Black Belt system at great length?
Well,
This month you have been evaluated by your instructors and they have unanimously approved you to be accepted into the Mile High Karate family of Black Belts.
I am hoping that you will take the time to sit down with our expert staff this week to discuss the specifics of our Master Club so that you also may be allowed to train to Black Belt (and beyond!)
As I'm sure you know – I first work with most Mile High Karate students during the Black Belt preparation cycle and during the Black Belt retreat.
Honestly, I hope to be able to personally work with you in 2 ½ to 3 years – and, then sit and ask you "What if I had a 'time-machine' and could travel back in time and…
Thank you!
Sincerely,

9th Degree Black Belt
Founder & Chief Master Instructor – Mile High Karate
P.S. Please call to set an appointment today with your instructor to see if you qualify for either our Leadership Program or Master Club
Feedback from Parents and Black Belts